*** I received a copy of this book to facilitate my review
I am so glad that I signed up to read
Jet
by Jay Crownover, the sequel to Rule (that I
reviewed here
). Both of these books are part of her Marked Men series. This post is part of Jay's
TLC Book Tour
From the Publisher: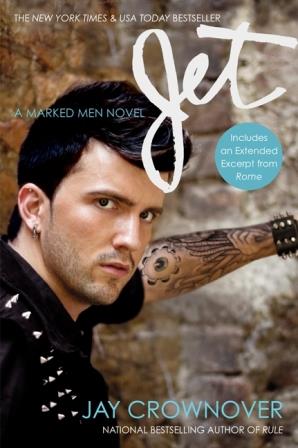 With his tight leather pants and a sharp edge that makes him dangerous, Jet Keller is every girl's rock and roll fantasy. But Ayden Cross is done walking on the wild side with bad boys. She doesn't want to give in to the heat she sees in Jet's dark, haunted eyes. She's afraid of getting burned from the sparks of their spontaneous combustion, even as his touch sets her on fire.
Jet can't resist the Southern Belle with mile-long legs in cowboy boots who defies his every expectation. Yet the closer he feels to Ayden, the less he seems to know her. While he's tempted to get under her skin and undo her in every way, he knows firsthand what happens to two people with very different ideas about relationships.
Will the blaze burn into an enduring love. . . or will it consume their dreams and turn them to ashes?
My review:
After meeting Jet and Ayden in Rule, I was eager to find out how Jay Crownover would shape their story and I wasn't disappointed when I had the chance to sit down and read Jet! This story unfolded slower than the first book in the series and I was on the cusp of being a little let down by the lack of action in the book when it all caught up!
If you are looking for the typical Alpha Male that Rule was in the first book, you may be a little disappointed, because Jet is much more sensitive and the relationship is completely different - that said, in a lot of ways, I enjoyed this book more! It still packs a punch, but takes more time to explore the ups and downs of the relationship between Jet and Ayden and and their histories!
I really love how Jay interwove Ayden's past and present into the story and helped develop both the character and the romance - and I have to say that Ayden is one of my favorite characters so far! Of course, that means that I have to get my hands on Rome - the third book in the series, which comes out in print in January!
If you are looking for a great read with a sensitive hero, a strong heroine and a great storyline, then you should definitely pick up
Jet
by Jay Crownover!