I worked for a limo company in Beverly Hills and was instructed to learn the star's homes just in case a private tour was requested.

I had always been interested in Hollywood, and got a great reaction when I didn't just drive by landmarks, but actually shared tales about people like Walt Disney and Cary Grant:
"One time Cary Grant was having breakfast at the Beverly Hilton Hotel when he noticed that his bread dish had three half muffins. The very rich but frugal actor called his server over for an explanation. He had ordered muffins and wondered why he had only been served a muffin and a half. When neither the waiter nor the manager provided a sufficient answer, Cary had a phone brought to his table and made several calls until he tracked down the hotel's owner, Conrad Hilton (1887-1979). The top man, who was vacationing in Istanbul, explained that most customers left the fourth half uneaten so the hotel stopped serving them. When the British star accused Hilton of false advertising, the Baron ordered that beginning with Grant, the fourth half would be served from then on. The now satisfied star finished his meal and paid his bill, complete with one hundred dollars in phone charges."
I decided to become a full-time tour guide because it seemed more creative than being a limo driver (although a lot of limo drivers are awesome tour guides!).
When I first started I had a study buddy named Ivan. During our breaks, we would research information about old Hollywood and share it with each other. I remember one time we met on Hollywood Boulevard and said to me in a low, conspiratorial tone," Steve, man, you want to know what I found out today? That Thomas Edison owned the rights to the movie camera and the early moguls like Mayer, Warner, and Zukor they had to pay him tributes. They why they left the East Coast and came west -- they were outlaws, baby!" The more information we found out, the more fun it was to give the tour. And I've got a good memory for stories so having different material kept it fresh, I think for the customers as well and the early moguls were really colorful characters:
Right before the shooting of the 1945 Errol Flynn western San Antonio, Jack Warner had a meeting with the star in the mogul's office. Warner knew that Flynn had fallen in love with a horse that the actor had ridden in several movies. The studio head had decided to present Errol with the animal as a gift. Flynn seemed genuinely touched by his boss's magnanimous gesture and the two men embraced. Word quickly
spread through the lot that one of the biggest feuds in Hollywood had come to an end. Jack Warner was pleased with his employee for several days. The good will came to an end when Errol announced that if Warner wished to use Flynn's new horse in the movie, the tycoon would have to pay rent.
The current tour company I work for is VIP Tours and Charters; we are out of LAX. Our clientele, mostly stays at airport hotels and comes from all over the world. I drive a twenty-eight seat bus and a normal tour make four stops, Venice Beach, Rodeo Drive, Hollywood Boulevard and the Farmers Market. During the driving time I continuously tell stories and try and make the trip as enjoyable for the customers as possible. It's a good time although there can be problems such as one group being late at a stop while another person needing to make it back for a flight (complicated by me being a slow, careful driver). Since the tourists come from around the world people don't always have a common frame of reference:
On one of my tours of Rodeo Drive, the guests were returning to the bus
after their visit when former Los Angeles Dodgers' first baseman Steve Garvey came walking by. A lifelong Dodger fan, I said," Hi Steve. Everyone, this is Steve Garvey!"
Very pleasantly, the smiling ex-baseball star came over to meet the people on the bus. Unfortunately, the entire group was from England and Germany and not a single person knew who he was.
Jimmy Stewart, George Burns, and Lucille Ball were among the stars I saw when I first started; they were always friendly and waved. Fred Hayman's boutique on Rodeo Drive was a great store (now defunct) where I used to be able get my customers cappuccinos spiked with Kailua and brandy -- I'll tell you the more people drank the more they enjoyed the tour. A bunch of stars came in there, like Cybil Shepard, Suzanne Pleshette, Vanna White, the one who I really enjoyed meeting was Zsa Zsa Gabor who took pictures with all my customers. The bartender was a beautiful girl named Laura, she looked like Cindy Crawford. Zsa Zsa walked to the bar, complimented Laura and asked how she kept her skin so nice. Before Laura could answer Zsa Zsa suggested that Laura stay away from booze -- then asked her to put some extra brandy in the cappuccino. Then she laughed so she had a good sense of humor.
When I first started training as a tour bus driver I rode with other guides to see how they did it. One guy, unfortunately did not endear himself to the customers with a patter of stale and sometimes sexist jokes. At one point, he showed the Hollywood Sign, and told the tragic story of actress Peg Entwistle, who unable to succeed in the transition from stage to screen, jumped fifty feet to her death from the top of the letter H. He finished the tale with the tagline, "Of course the last person to jump was a tour guide who didn't get tipped." There was a pause and then an Australian customer from the back of the bus shouted out," Oh yeah? Well there'll be another one tomorrow!"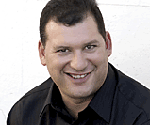 Tim Sika, host of the radio show Celluloid Dreams on KSJS in San Jose has called Stephen," The best storyteller about Hollywood we have ever heard."