As I hop around the blogosphere this week, I'll be linking back to this post from all of the great hops!
If you've landed here for the first time today, you're in for a treat! Along with all of the carefully balanced Chaos that normally reigns supreme here at Acting Balanced, you've arrived during Autism Awareness Month and so there will be new posts every day that showcase people with Autism, parents, caregivers, teachers and friends of people with Autism, experts in the field and even some great product reviews and giveaways. This doesn't mean that the rest of the blog is on hiatus, nope, it just means more to love!!!
I have more than a dozen great giveaways going on - and more being added every day, so if you like that kind of thing, may I recommend becoming a follower, an email subscriber or checking me out on Facebook or Twitter!
If you're curious about what I've already posted about Autism, you can click on this button: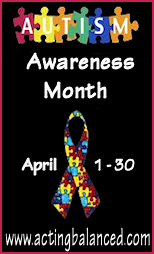 And without further ado, these are the hops I'm participating in this week:
Question of the week: Have you or your children ever broken any bones?
Knock on wood, no... I've never broken anything and neither have my kids... lots of sprains and strains though....