I am so pleased to invite author, Kaylin McFarren to guest post on Acting Balanced today! Her latest book, Buried Threads is currently touring with Pump Up Your Book.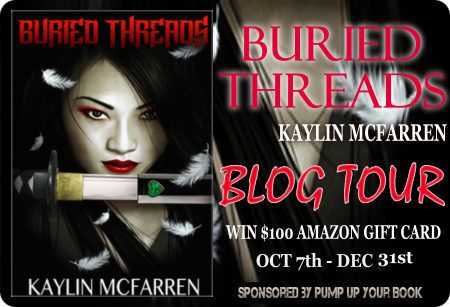 How do you maintain tension when writing suspense stories?
After attending dozens of writing workshops and numerous conferences, I compiled a list of rules that I depend on daily when writing romantic suspense. These recommended guidelines are a great tool for creating tension and expectation, which is essential to keeping your readers turning those pages!
Remember to show, don't tell! I've heard this over and over again and it is the most common mistake among new writers. The fewer blocks of description or passive writing you include, the better. Avoid "info dumps" where you include sections of research information and background details you might consider important. This will only serve one purpose: bringing your story to a screeching halt and turning it into a boring textbook. Instead, focus on current events or the overall point of your storyby including realistic dialogue and fun, action-packed scenes.
Make sure to create a "believable" threat or frightening dilemma, such as akidnapping, unexploded bomb or an impending disaster. You might add a psychological danger such as the loss of a job or dying family member. The trick is to make the threat relevantand potentially devastating to your main characters.
When things seem to go wrong, they can only get worse, which is a great plan of attack for keeping your reader's interest. Ask yourself, "What would people do in this situation?" Then have your character do the unexpected, open the wrong door or make the wrong choice, leaving them facing the consequences of their actions.
In suspense pacing is by far the most important aspect of your story. A common practice is to increase tension by shortening your phrases and dialogue. While lengthy sentences add a more relaxed mood to your story, short choppy ones read faster and help make scenes more suspenseful. But don't get carried away and make the mistake of wearing your readers out by keeping action rolling at fever pitch. As in "real" life, characters need to catch their breath after an exhausting action scene.
Determine the timeline for your story, remembering that quick scenes or episodes that occur in a matter of hours or over the course of a day are far more suspenseful than scenes taking place over several days, weeks or months.
Lastly, be sure to end each chapter with a great hook or final line to keep readers from putting your book down. This could be a revelation, unanswered question or sudden discovery that can only be answered or revealed by reading further. The best suspense stories leave readers hungry for knowledge and anxious to know where the story's ultimately leading.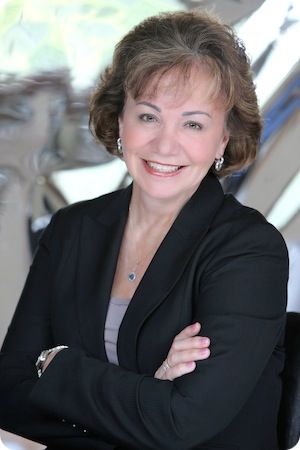 Kaylin

McFarren

is a California native who has enjoyed traveling around the world. She previously worked as director for a fine art gallery, where she helped foster the careers of various artists before feeling the urge to satisfy her won creative impulses.
Since launching her writing career,

McFarren

has earned more than a dozen literary awards in addition to a finalist spot in the 2008 RWA Golden Heart Contest. A member of RWA, Rose City Romance Writers, and Willamette Writers, she also lends her
participation and support to various charitable and educational organizations in the Pacific Northwest.
McFarren

currently lives with her husband in Oregon. They have three children and two grandchildren.
Her latest book is Buried Threads (Book 2 of the Threads series).
Connect & Socialize with

Kaylin

!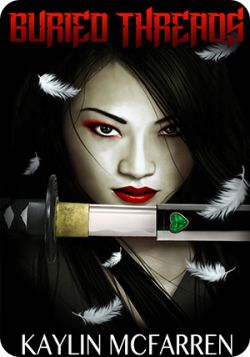 Rachel's mouth sagged. "You mean you're really a monk? But how's that possible? You're not even wearing a robe, and your hair…"
A disturbing prophecy sends a treasure hunting duo on an urgent race to rescue a country in

Kaylin

McFarren

's heart pounding new novel, Buried Threads. Full of erotic suspense and wild adventures, this is one trip that readers will never forget!
Rachel Lyons and Chase Cohen work together as the successful owners of a treasure hunting company. But a seemingly simply assignment – to track down a priceless gem that is believed to buried in a shipwreck deep within the Sea of Japan – takes a starling, and dangerous, turn.
Faced with a monk's dark prophecy that a natural disaster will soon strike Japan, killing millions, Rachel and Chase must embark on the mission of a lifetime in order to uncover the three cursed samurai swords that can avert the catastrophe.
Chaos ensues as their adventure takes them from shark infested waters and creepy caves to haunted hidden tombs and a confrontation with Yakuza gang members.
Time is running out as the prophecy's day of reckoning draws near. Will Rachel and Chase succeed before disaster strikes?