Playing along with: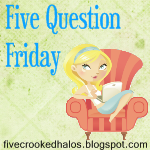 1. How long did it take for you to find your wedding dress? (Wedding dress pics anyone?)
I found it within the first week of looking - it was probably the 15th dress I tried on... and I knew right away...
2.
Someone in your general vicinity releases a NASTY smelling fart. Do you say anything or blow it off?
Depends on who it is... but usually call them out...
3. W
hat is the scariest thing that happened to you or scared you recently?
I can't think of anything... isn't that scary
4.
Favorite brand and flavor of ice cream.
5. Are you able to sleep well in hotels?



Depends on who I'm with... right now I'm blogging in my hotel room instead of sleeping... but as soon as I finish posting I'll be heading off to dream land... I'll update you tomorrow since I've never shared a room with my two roomies (

tailormademomma.com and measamommy.com)

before...