It's that time of the week again - when I answer five fabulous questions posed as part of: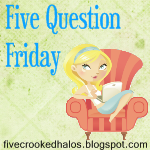 1.
Are you looking forward to the time change this weekend?
NO!!!! Heck NO!!! With a toddler and a special needs child, it always takes weeks to get back on track after a time change... I HATE DST!
2. A
re you getting the new iP

ad

/would you want a

iPad

?
I have an iPad2 and while the new one looks nice, I can't see upgrading until this one isn't working any more... it meets my needs
3. I
f money was not a problem, what is the one thing you would

splurge

on?
A new laptop! One of the super tough military grade ones that my kids couldn't kill...
4.
How did you and the Mr. (or Mrs.) meet?
We met at work when I was 16 and he was 17 - we worked for Parks and Rec in Toronto...
5. S
ummer

is right around the corner. Bikini or one-piece?
Tankini or One Piece... no one wants to see this bod in a bikini
Thanks to Mama M for the questions again this week...
If you like this style of meme, you can also check out the one I host now - Meet Me on Monday!