I am participating in another Friday Follow - and hoping that by finding some new blogs, and reaching a new audience, I can start to rebuild some of the credibility and 'points' I lost while took a bloggy break when I had morning sickness...
I am hanging out at: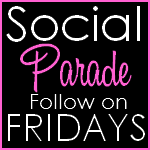 hosted by
Smart & Trendy Moms
hosted by
Simply Stacie
and
My Wee View
and
hosted by
Toddler Awesome
For those who are just finding Acting Balanced, welcome...
This blog has a little of everything - family, recipes, commentary, reviews and giveaways... and speaking of giveaways, I will be posting the winner of my Canadian Treats giveaway tomorrow, but there is still time to check out the Beachcombers book giveaway
here
(ends 7/21)
I invite you to comment and follow me if you are interested in delving more into what AB is all about...
Thanks for stopping by!