I am so pleased to be able to introduce you to a fellow Low Country Blogger - Lindsay from
Lounging with Lindsay
! Lindsay and I met at the Shutterfly event a few months back and I thought that you all should meet her too!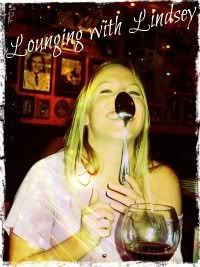 1. I'm a 20-something not so newlywed, married to the man of my dreams, and brand new mommy. I love reading, writing, crafts, baking, and wine and I blog about all of those things and whatever else comes to mind on any given day, including living life and figuring out this whole mommy thing.
2. How long have you been blogging and what do you love about it? I've been blogging for about 2 years. I love meeting new people that I would have otherwise never met and just keeping all of my life experiences in one easy to document place.
3. Who is the person or group behind the blog? It's just me, a 20-something stay at home mom.
4. What hobbies/interests do you have? I love reading and writing. I like to bake and drink wine. I enjoy crafting and scrapbooking and wish I had the time to do more of it.
5. If you could invite 4 people (real or fictional, living or dead) to a dinner party, who would you invite and what would you serve?
Harrison Ford is my "old man crush" and has been since I was about 12, so I'd definitely invite him. Ali Fedotowsky is absolutely adorable and I think she'd be a sweetheart, so I'd love to meet her. Uncle Si [from Duck Dynasty] is hilarious, so he'd be a riot. And Jennifer Lawrence [I just love her]. I'd probably make my husband cook [because he's definitely the better cook!] and have him make chicken marsala. I'd probably bake some amazing dessert with a million calories. And wine; there MUST be wine.
6. I can't live without… My phone, although it's definitely about to bite the dust.
7. Something people would be surprised to know about me is… I'd love to be a published author someday.
8. Three of my favorite blogs to visit are:
Honor, Courage Commitment
http://sweettea-lemonade.blogspot.com/
Little Baby Garvin
http://littlebabygarvin.blogspot.com/
You're my favorite today.
http://youremyfavoritetoday.blogspot.com/
9. Three of my favorite posts on my blog are (Include urls) :
On Sleeping
http://loungingwithlindsey.blogspot.com/2013/02/on-sleeping.html
Pre Baby Shower Post
http://loungingwithlindsey.blogspot.com/2012/11/pre-baby-shower-post-baby.html
Crazy Tuesday
http://loungingwithlindsey.blogspot.com/2012/01/crazy-tuesday.html
Thanks so much for stopping by Acting Balanced today! You can also find Lindsay by checking out her social networks:
FB -
https://www.facebook.com/pages/Lounging-with-Lindsey/136120543215305
Twitter -
https://twitter.com/LindsAugustine
Pinterest -
http://pinterest.com/lindseya21/
Instagram -
http://instagram.com/lindseya21
If you'd like to be interviewed in an upcoming Saturday, please feel free to leave me a comment or shoot me an email at heather at actingbalanced dot com