I'd love to introduce you to Michelle from Mama's Baby Cupcakes and let you get to know a little more about her blog and the woman behind: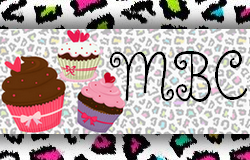 1. Tell us a little bit about your blog:
My blog is focused on my life as a wife and SAHM to three little girls with reviews and giveaways mixed in for children/families/moms
2. How long have you been blogging and what do you love about it?
I started blogging March 2011 and this blog opened October 1, 2011. I love that it gives me an outlet to express my emotions and opinions, plus sharing great products with other moms.
3. Who is the person or group behind the blog?
Me. I'm a SAHM for the past 5 years and live in IN. I recently added my co-blogger, Lakeon, who is a SAHM of a little girl and expecting a boy in April. She lives in MS and focuses on her pregnancy journal and pregnancy items at this point
4. What hobbies/interests do you have?
My hobby is actually tattoos. Every tattoo has a meaning behind it representing strength, my children, or even a tribute to my nephews
5. If you could invite 4 people (real or fictional, living or dead) to a dinner party, who would you invite and what would you serve?
Steak to Marilyn Monroe because I'm obsessed with her, Lakeon because we've never met in real life even though we've known each other for 4 yrs, my husband, and let him pick one person from the past because he loves history
6. I can't live without… my family of course! materialistic item would be my Iphone because I can do pretty much anything from it
7. Something people would be surprised to know about me is… Only thing I can think of is that my birth mark is in the shape of a goldfish LOL
8. Three of my favorite blogs to visit are
9
. Three of my favorite posts on my blog are