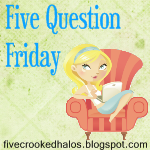 1. F

lu mist? Flu shot? Or take your chances?
I take my chances...
2. D
o your kids have iPads? W
hat are some good educational apps? Price?
We have two family iPads that the kids think they own... most of our apps are preschool age - I love the A-Z with Moose and Zee app for Erik (Free) and Liam really likes the Super Why App - it was $3.99
3.
What are your favorite boy/girl baby names?
I'm partial to Liam and Erik as boys names and if I'd been naming Girls they would have been Ursula and Rebecca
4.
If an apple a day keeps the doctor away, which apple do you choose to eat?
(red/green, gala, red delicious...)
Granny Smith
5.
What is your favorite place to escape to for peace & quiet, to think? Why
My bathtub... with a nice steaming tub and a glass of wine... soak away my cares and the door has a lock!