***This post contains links to an adult products website***
I know that Halloween is still looming in everyone's sites this week, and there's still time to place an order at EdenFantasys for a cute and sexy Halloween Costume for some couples time, but in all honesty, it's time to look beyond the immediate and start planning for the holidays and there are some great gifts available on the EdenFantasys website - and there are always fabulous promotions going on to get more for your money!

With wonderful massage candles, bath and shower products and more in the Beauty and Body section, it's easy to shop for so many people on your holiday shopping list - and with the Wishlist feature you can start shopping or at least window shopping for yourself!

Right now, my wishlist contains a few of my favorite things - nope not "raindrops on roses and whiskers on kittens".... bath salts and body scrubs!

I'm thinking that this Simply sensual body scrub looks amazing!
Described as a chance to "Buff away those pesky dry skin patches with this amazing sugar scrub. Not only will it exfoliate, but the natural oils and shea butter in the base will leave skin soft and smooth."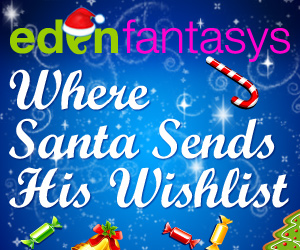 Whether you are looking for a gift for a friend, your significant other or for yourself... EdenFantasys offers great selection, great prices and a hassle free shopping experience!
What's on your wishlist?