It's time to hook up with Mama M. once again and play along with: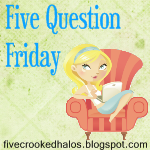 1.
What advice would you give a couple getting married?
Communication is key - make sure you make time to actually talk to each other no matter how crazy life gets...




2. If you could tell your 16 year old self ONE thing, what would it be?



Don't drop math... take the time to learn it... so you can help your 14 year old daughter with her homework in the future



3.

What do you do to keep cool in the summer? (AC, windows, fans, swimming, etc.)



A/C, fans, swimming in our community pool and drive home to Canada for as long as we can!

4.

What did you (or your wife) crave most while pregnant?



Hmm... with Liam it was Arby's Grilled Cordon Bleu sandwiches and sweet tea and with Erik it was anything coconut...
5.
Who is your favorite TV mom? Why?
I have to pick just one??? I love so many... for so many reasons...
Peggy Bundy - because she's so irreverant
Sheldon's Mom on Big Bang Theory - cause she just gets him... and gets to him
Marge Simpson... the pork chops and the hair