It's time for Five Question Friday - a chance to learn five more things about me than you knew five minutes ago...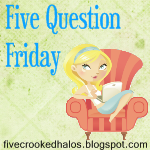 1.
Would you prefer having people over for dinner or going to their house?
Depends on how much notice I get... I love having people over, but with three whirling dervishes I need time to get the house in order and into company shape...



2. Favorite Bible verse and why?
I'm not religious so I don't have one...



3. What was the first concert you ever attended, and the most recent one?
First concert was Sharon, Lois and Bram (of the Elephant Show Fame) and the most recent one was Matt Kearney



4. The year is 2025. What are you doing, and what have you done?
In 2025 I'll probably be back to work full time (unless I'm a blogging superstar)... and supporting my kids in high school and college - Robyn will probably be working on her PhD by then, Liam will either be finishing HS or starting college and Erik will be starting HS!



5. What's your favorite Easter treat?
If I weren't allergic to chocolate it would be a chocolate rice crisp bunny, but since it is, my faves are jelly beans!