It's Friday once again and here are the 5 Questions deemed to be part of this week's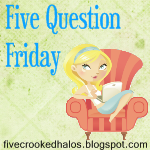 1
. W
hat is the weather like where you are and do you like it?
Right now it's sunny and a little chilly for Charleston at about 43F. It's supposed to warm up to a very balmy 66F, so I won't complain :)
2.
When you're sick what do you seek comfort from?
My hubby... he's really good at helping me when I'm sick
3. What do you need to do before the end of the month?
Find a sponsor for my trip to Reviewer's Retreat in June!
4. Have you ever served on a jury?
No
5. If you could be any animal, what would you be and why?
I'd love to be a bird... flying around and getting a bird's eye view on things...