Finding holiday gifts for Hubby is one of life's great challenges, but this year I think I found something that he likes and is practical enough that he'll use it every day - and it's not a tie or a sweater! It's the Geminus Genius iPad Case!
Wayne is a busy professor, so finding the right case for his iPad was important to me. His first case that we bought at the same time as his iPad 2 didn't last through Liam - it had a fairly weak construction and held the iPad in by just squeezing the corners. The second case we tried was better - you could slide the whole iPad into it, but it slid out again with amazing regularity, which meant that it too was truly unsuitable.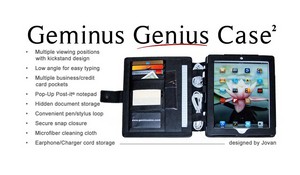 I knew I wanted something that wanted something leather and professional looking, so I started my quest and ended it when I found the Geminus Inc. website!
The case I was sent for review has all of the classic features I was looking for:
High quality leather exterior
A secure closure (snaps)

Multiple viewing positions - it has a snap out kickstand that is really strong!

Easy access to all of the iPad features - cameras, volume, on/off etc
and then it also had some things that I didn't know I wanted for Wayne until I got them:
Multiple spaces for business and credit cards
A pop-up Post it Note dispenser
Space for both a pen and stylus
a space for the enclosed microfiber cleaning cloth
and an additional space to store documents
Wayne has now been using it for a few weeks and has got it full of everything he needs for heading out to meet with students, business partners and university colleagues. It really does hold everything he needs and looks incredibly professional.
It has also been great for when Liam borrows it and wants to watch Netflix on it - the kickstand is very secure and substantial so that even with Liam using it the stand keeps the iPad in place!
The only drawback is that the case, while protective during a fall, wasn't able to completely prevent a damaging crack when Wayne sneezed and dropped the iPad onto the concrete. It sustained two small cracks in the glass rather than shattering though - and it didn't effect the functionality of the iPad (although we are putting it in to be fixed over the holidays)
This is definitely a great case for busy professionals who want to be able to use their iPads on the go and keep their business info at hand. At only $55, it falls right in line with other quality cases and could be a great gift under your tree!