I am pleased to host Veronica Blade today and review her new book,
Something Witchy This Way Comes, tomorrow! She's here as part of her virtual tour and you can check out more by clicking on this button:
Who's the Sexiest Paranormal of Them All?
Vampires are mysterious, confident and sexy. But there's that darned blood lust thing — they want yours. And, given the chance, they'll always want to drain you. You want the allure, but you kinda want to keep your blood inside your
body. Where it belongs.
So what are the alternatives? Fairies? Hm… they don't sound very manly. And with the wings and fluttering about, not the most masculine of paranormal beings. Fallen angels? Um… no, I don't want my soul at risk. Shape shifters? Now we're talking! Take a guy like Sam from True Blood — oh, yes, please!
And then there are werewolves. Their skin isn't hard and cold and sickly pale. No, they're hot-blooded and yummy. And, like any canine, they're fiercely loyal and protective. They're probably easier to train, too. And, unlike when dating a vampire, you don't run the risk of becoming anemic. If you like the whole biting thing, your werewolf beau might be happy to oblige. There's something wild and carefree about them and that's always attractive in a guy.
On the other hand, there's the fur. Do you really want to get up close and personal with someone that can get that hairy? And, sure, he may be hot, but werewolves are unpredictable with all that emotional turmoil. Let's not forget that with werewolves, you're not just worried about losing a little blood. You might lose all your limbs and when a full moon comes, you just might be dinner.
So who else are you left with? Warlocks? They're basically humans with magical powers. They can do cool things like set the mood by lighting candles with the flick of a finger or start a car and rev that engine through telekinesis. Though you might want to watch out for telepathic warlocks when accepting a date. You don't want him knowing all your dirty little secrets on your first date, do you? I mean, creepy much? Other than that, you've got a guy who can defend you against the scary vampires and werewolves who want to sink their fangs into your flesh. And warlocks are warm-blooded and even tempered — but still total bad-asses. Perfection.
Oh, who am I kidding? Warlocks and Shape shifters are cool and all, but the next time a vampire or werewolf asks me out, I'm saying yes!
About Veronica Blade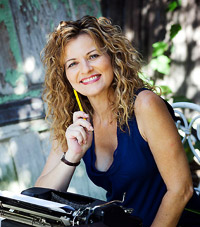 Veronica Blade is married with children and living in Southern California. By day she runs the family business, but each night she slips away to spin her tales. She writes stories about young adults to relive her own childhood and to live vicariously through her characters. Except her heroes and heroines lead far more interesting lives — and they are always way hotter.
Her latest book is

Something Witchy This Way Comes

.
Visit her website at www.veronicablade.com. Connect with her on Facebook at http://www.facebook.com/#!/profile.php?id=100000174247353 and Twitter at http://twitter.com/#!/VeronicaBlade.
About Something Witchy This Way Comes
Brainiac Tessa McClean's newly discovered magical powers give her hope of an escape from her inadequate life. But the thrill of being a witch fades when she learns of a rival coven and begins to suspect her own coven's objective. Evidence tells Tessa to trust one side, but instinct drives her toward the other.
When Hayden Anders, the most delinquent kid in school — and the toughest — offers self-defense lessons in exchange for tutoring, the timing couldn't be better. Though the idea of hanging out with a bad-boy that tempting is unnerving, staying alive amidst warring witches takes priority. She vows to hold onto her values and not surrender to the bad-boy she begins to secretly want.
Together, Tessa and Hayden uncover the truth about the two factions — a truth that explains why the covens will stop at nothing to lure her to their side. Tessa has only a matter of weeks to form an alliance with one coven or the other, but the wrong decision could cost Tessa the lives of all those she loves — including Hayden.
Giveaways, Contests & Prizes!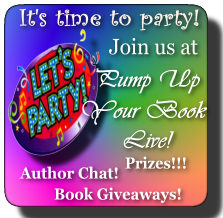 Join Veronica Blade at the Pump Up Your Book Live! November Author Chat / Book Giveaway Party on Friday, November 18 starting at 8 p.m. eastern!
Veronica will be giving away a copy of her book! You could win a copy of Something Witchy This Way Comes simply by attending the chat and asking Veronica a question. All there is to it!
For details on chat, visit the official chat page for the November authors at Pump Up Your Book Live!