Once again, I am hooking up with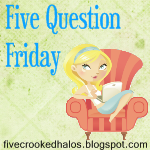 so that you can learn just a little more about me...
1.

Is there a special dish you prepare that you are famous for?
When I'm having guests, I prepare kneadel - a type of potato dumpling that my Oma taught me how to make, but when it's just us for the holidays I don't make it... too big a recipe for just the five of us.
2.

Are you (did you) go Black Friday shopping ?
Yep, it's a mother-daughter tradition - we start at Midnight and go straight on til morning (or the driver drops...) Not really shopping for anything specific, but I know a good deal when I see one...
3.
What are your strangest holiday traditions?
Our most recent Christmas tradition is heading to the beach on Christmas Day (or New Year's Day if Christmas Day is rainy), but that's not so strange here in SC - unless you count the fact that Robyn ALWAYS swims when we go...
4. Pecan or pumpkin pie? (She actually asked "Apple or pumpkin?" I just T-

giving'ed

it!)
Apple! Wayne's allergic to nuts and I've never liked pumpkin, so I'm an apple pie girl for almost all Fall/Winter holiday occasions
5. When will you put up your Christmas tree?
Probably not until my inlaws arrive on the 17th of December... with Erik at that destructive toddler stage, putting up the tree is going to be interesting this year...