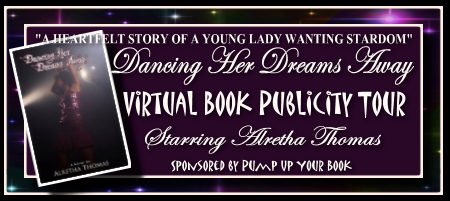 From the Publisher:
Shelia King, a fun-loving grandma's girl, needs to keep her days open for auditions in the hope of landing a role that will catapult her to stardom. With the threat of eviction looming, she scrambles to find a night job and convinces the owner of a hostess club to hire her. Now she's a dance-partner-for-hire by night and struggling thespian by day. When her agent pitches a topless role, fearing her grandmother's disapproval, Shelia declines. But after setbacks and considerable thought, she agrees to meet the producer. Gregory Livingston III is rich, suave, ridiculously fine, and the panacea for Shelia's career woes. At first sight she shapes plans to win the role and his heart. She gets both and works hard to give an Oscar worthy performance. However, when the movie wraps, nothing can prepare her for the startling revelations about Greg's past and the aftermath of a dream gone awry.
My Review:
Sheila knows what she wants and she goes after it without thinking about the farther reaching consequences and that is what makes this story so gripping. This book is suspenseful and I found myself believing the storyline and getting into the characters. You know a book is good when you put it down because you want to get into the book and give the characters advice...
Dancing Her Dreams Away is a book that allows you to share the life lessons learned by Sheila and to come away from it with a better understanding of the human condition. If you are looking for a good, honest read, I recommend checking out Dancing Her Dreams Away
.
About the Author:
An author, playwright, producer and director, Alretha Thomas is making her name through her pen. Award winning plays and wanting to help her community, Alretha's background is as diverse as her personality. She started at the age of ten, when her 5th grade teacher picked and read her short story assignment in front of the class – that simple, loving act empowered a new writer. Continuing in high school, her numerous original oratorical conquests on the Speech Team led her to a journalism concentration at the University of Southern California. Upon graduating, Alretha soon realized that her interest in journalism was not heartfelt. While at the taping of a live sitcom, the producer noticed her and encouraged her hand at modeling. Modeling didn't mean much to her, but it did lead her to acting and a NAACP Theatre Award Nomination (1993) for BEST ACTRESS. She feels that this acting stint gave her more fuel to write, and particularly, a better understanding of character development.
Alretha left acting and began to write full time. Her church gave her an outlet to fulfill her writing desires through their Liturgical Fine Arts Department wherein Alretha penned twelve theatre pieces – the community response was overwhelming. This led to full length plays outside of the church including Alretha's play, Sacrificing Simone (2007) which had a successful run at Stage 52 in Los Angeles and was called "an inspirational crowd pleaser" by the Los Angeles Times and her most recent work, the ground breaking OneWoman, Two Lives, starring Kellita Smith (The Bernie Mac Show), directed by Denise Dowse, which garnered rave reviews from critics and audiences. In between plays, Alretha's first novel Daughter Denied was launched in 2008.
Disclaimer: I received a copy of this book for the purpose of completing my review. All opinions are my own.