I am pleased to be hosting Darien Gee, author of Friendship Bread
, as part of her Pump Up Your Book virtual tour. I had a chance to ask Ms. Gee a few questions about Friendship Bread, her latest novel! I am also hosting a giveaway for this great book!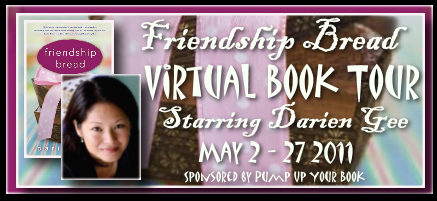 About Friendship Bread:
It's more than just a recipe—it's a way of life.
For fans of Kristin Hannah and Kate Jacobs, Darien Gee's deeply felt and utterly charming novel follows two estranged sisters, three newfound friends, and—ultimately—a whole town brought together by a simple loaf of Amish Friendship Bread.
In Avalon, Illinois, a woman and her young daughter return home to find a plate of Amish Friendship Bread along with a bag of starter on their doorstep. There's no note, just a yellow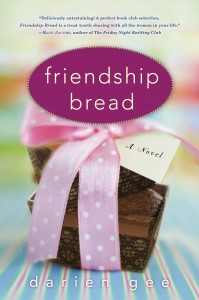 sticky with the words, "I hope you enjoy it." The instructions tell them to feed the starter over a ten-day period, then bake two loaves and share the remaining starter with three other people.
At the insistence of her five-year old daughter, Julia Evarts reluctantly follows the instructions. Soon, the bread and its starter are making their way through the town of Avalon, touching the lives of its residents in ways both comical and unexpected. Julia befriends Madeline Davis, 74, owner and proprietor of Madeline's Tea Salon and Antiques who harbors a secret of her own, and Hannah de Brisay, 28, a concert cellist who relocates to Avalon after the premature end of her career and marriage.
Julia's sister, Livvy, is struggling with her own loneliness as she and her husband, Tom, try for a child of their own. Julia's husband, Mark, is tired of the sadness that seems to have taken over their lives for the past five years. As the town of Avalon becomes overrun with the Amish Friendship Bread starter, a kernel of a story presents itself and activist and reporter Edie is quick to jump on it, even if it means pointing a finger at Julia as the instigator and dividing the small community that they live in.
When a neighboring town is devastated by high floods, Julia and her friends supply loaves of the bread to the residents and volunteers. As word spreads, so does help. Soon the entire town of Avalon is doing their part to aid their neighbors in need as they put their differences aside.Friendship Bread is a captivating, engaging novel about life and loss, friendship and community, and what endures even when the unthinkable happens.
My Q and A with Darien Gee:
1. How did the idea for Friendship Bread
take form?

Friendship Bread was inspired by my own experience with Amish Friendship Bread, when my daughter brought it home along with a bag of starter she'd received from a friend. I was eating the last few crumbs when I started to think about a woman who receives the starter and just doesn't want to do it. I saw a sadness hanging over this character and I knew I wanted to find out more. I started writing and the story quickly took shape — more importantly, it soon became clear that the book wasn't about any one person, but an entire community ready for change and connection.

2. Which character is your favorite?



It changes for me. I don't have a favorite, but there are so many moments where I'll experience an overwhelming tenderness or affection for a character that in that moment they'll become my favorite for a while. I love how earnest Livvy is, for example. And Connie's spunk and Madeline's generosity. I'm charmed by the townspeople of Avalon whom we meet briefly, like Gloria the fortune teller and A.A., the biker who bakes. Even the scoundrels have their moments. I think I approach it a little bit like a mom — I love them all, and even if I did have a favorite, I'm not about to tell at the risk of upsetting the other kids!


3. Food is such a central theme in this book, the common ground, if you will, is it like that for you, your family and friends?



Life can be a bit solitary as a writer, but mealtimes are a time when I can count on seeing people I love or enjoy spending time with. Food is nourishment for our bodies just like family and friends are nourishment for our souls. I think there's something magical about people gathering together around food. Have you ever noticed how people always end up in the kitchen during a dinner party? There's something so comforting about it, even if there are dirty dishes in the sink or pots are boiling over. Food is a source of connection for us, and we see that not just with the people closest to us, but with those who bring the food to our plate — the farmers, the delivery truck drivers, the stores, the cook, and so on. We are all connected in ways both seen and unseen, and I love this.



4. Are you planning to bring these characters back in a future novel?

I'm currently at work on the sequel, Memory Keeping, which will be out in 2012. We'll hear more from Madeline and Ben, Hannah, Connie, and two new characters, Yvonne and Isabel. I'll continue to introduce other Avalon residents in the anecdotal chapters as well — I've gotten a bit attached to that form for these books.

5. On a more personal note, still on the food theme, if you could invite anyone to a dinner party (real, fictional, living, dead) who would be at your dinner party and what would it be like?

Richard Branson. I love visionaries and people who dream big. I wouldn't try to attempt something huge and fabulous because I'm sure he's seen it all, so I'd opt for something casual with my husband and a handful of other like-minded individuals. Jeans and t-shirts, something indoor-outdoor, and of course great food and wine.
About the Darien Gee:
Darien Gee lives with her husband and three children in Hawaii. She is the bestselling author of three previous novels (Good Things, Sweet Life and Table Manners) written under the name Mia King. You can visit Darien Gee's website at www.friendshipbreadkitchen.com. And check out the Friendship Bread Kitchen Facebook fan page.
You can also win your copy of Friendship Bread!
Giveaway is open to
US/Canada
only
Mandatory Entry must be completed before other entries count.
Each entry must be made as a SEPARATE COMMENT
Giveaway will end on May 23rd
, 2011 at 11:59 PM and
the winner will be chosen by Random.org,
announced on Acting Balanced
The winner will have 48 hours to claim their prize.
What question do you have for Darien Gee?
Bonus Entries:
+1 Bonus Entry - Follow Acting Balanced on Google Friend Connect
+1 Bonus Entry - Subscribe to Acting Balanced by email (must be completed)
+1 Bonus Entry - Add this giveaway to any giveaway linky and leave me the blog post's URL (3 maximum)
+3 Bonus Entry - Blog about this giveaway and leave me the link to your post
+1 Bonus Entry - Leave a NEW comment on any non-contest post (maximum 2 per day)
+1 tweet this phrase (up to 3x per day, at least 2 hours apart)
#WIN the book FRIENDSHIP BREAD by Darien Gee from Acting Balanced @Chascouponmom
http://bit.ly/l06koy
#giveaway
ends 5/24