Every Last One: A Novel
by Anna Quindlen is a book that will make you think, make you laugh and make you cry - at least if you're like me.
From the publisher: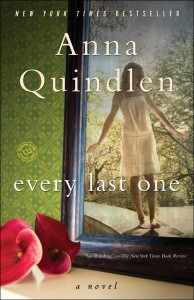 In this breathtaking and beautiful novel, the #1 New York Times bestselling author Anna Quindlen creates an unforgettable portrait of a mother, a father, a family, and the explosive, violent consequences of what seem like inconsequential actions.
Mary Beth Latham is first and foremost a mother, whose three teenaged children come first, before her career as a landscape gardener, or even her life as the wife of a doctor. Caring for her family and preserving their everyday life is paramount. And so, when one of her sons, Max, becomes depressed, Mary Beth becomes focused on him, and is blindsided by a shocking act of violence. What happens afterwards is a testament to the power of a woman's love and determination, and to the invisible line of hope and healing that connects one human being with another.
Ultimately, in the hands of Anna Quindlen's mesmerizing prose, Every Last One is a novel about facing every last one of the the things we fear most, about finding ways to navigate a road we never intended to travel, to live a life we never dreamed we'd have to live but must be brave enough to try.
My review:
In a way, I was sorry that the blurb told me so much about what the book was about. I read parts of it with anticipation, and so I missed some of the feeling of surprise that the main character Mary Beth Latham must have felt when experiencing her life, but as I reflect on it, I think that's the author's purpose for crafting the book jacket, so that you know more than the character and can see the subtleties that she can't.
This book is an emotional wringer, but still a quick read - it's hard to put into words exactly, because I don't want to throw in spoilers, so I'll just say that this was a 4 Kleenex book for me. One of the things I found so fascinating is that the main character and her family are such 'typically normal' people and that has a profound effect on the book.
If you're looking for light and fluffy, this isn't the book for you. If you are looking for incredibly deep and soul searching that will change your very existence, this book isn't for you either. If you're looking to read an emotional story that you might be able to relate to on some or many levels, and want to make you hug your family closer, than this is the book for you.
Every Last One
was a book that I think I will re-read at some point to try to tease out more of the subtleties that I've even missed this time around, because I know they're in there - little gems from author Anna Quindlen, just waiting to be found.
About the author: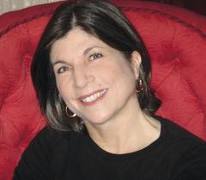 Anna Quindlen is the author of five previous bestselling novels (Rise and Shine, Blessings, Object Lessons, One True Thing, Black and Blue), and seven nonfiction books (A Short Guide to a Happy Life, Good Dog. Stay., Being Perfect, Loud & Clear, Living Out Loud, Thinking Out Loud, and How Reading Changed My Life). Her New York Times column "Public and Private" won the Pulitzer Prize in 1992. From 2000-2009, She wrote the "Last Word" column for Newsweek.
Disclaimer: I received a copy of this book from TLC Book Tours for the purpose of completing my review. All opinions are my own.