This will be my first ever Blogmania and I'm joining up with a bang! My sponsor for this weekend's event is one that has been a popular giveaway attraction here at Acting Balanced and that I've written posts about too...
And the best part is that they've extended it to April 11th, so you can have more time to enter..
**** Warning ****
This post contains links to ADULT products. If you are under 18 or prefer not to read stop now
I am so pleased that EdenFantasys is co sponsoring my Blogmania event this year! They've donated a $50 gift code and I am also donating a $55 gift code that I earned for a previous blog post!
If you haven't visited EdenFantasys, you don't know that they carry high quality adult toy products for women, men, and couples!
They are a one stop shop for all of your sensual needs - carrying everything from massage oil and candles to books and dvds.
I really like that I can shop in the privacy of my own home and get great products like like the Knead Me Massage Kit and the Treasure of the Sea delivered right to my door!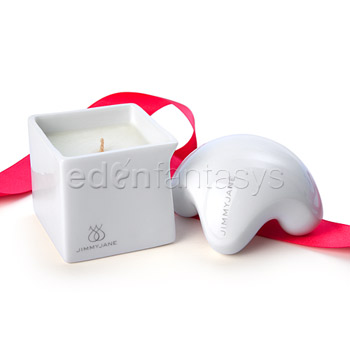 The Knead Me gift set is a combination of two of Jimmyjane's most loved products - the Afterglow massage candle and the Contour M massager. As with all of their other products, this set is packaged beautifully and would make a great gift but could also be separated to give one as a gift and keep the other for yourself. Together or apart, the items in this set will make for a sensual, romantic, and relaxing massage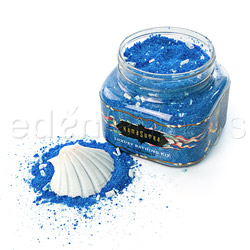 Transform a simple bath into an ocean of azure blue, relinquishing body and soul to the soothing rhythms and distant scent of the sea. After basking in this wondrous blend of nature's own sea salts, sea weeds and organic moisturizers, you'll emerge from the bath as Aphrodite herself emerged from the briny depths - skin softened, body nourished and soul reawakened. Spirited from a faraway shore, a sea shell scoop and natural loufa sponge accompany each tin of bath sands. 20 oz.
The best part of the EdenFantasys website is that real people have left their reviews of the products - so that even if you've never ordered products like this before, you can be more confident about what you're getting! The rating system is easy to understand and every product I've ever clicked on has had a number of well thought out product reviews.

EdenFantasys rewards its members with points for ordering, for verifying their information and for participating in their forums and for posting reviews, so the opportunity to receive and share information on their site is fabulous!
If you are even thinking about researching your next purchase to make your anniversary, vacation or even just a weeknight with your special someone even more special, then I highly recommend that you check out EdenFantasys! Their site is easy to navigate, their service is fabulous and their products are top notch!

Everyone will need to follow Acting Balanced in one way or another as the Mandatory entry and each additional way will be bonus:
Follow Acting Balanced /@ chascouponmom on Twitter +1
GFC follower of Acting Balanced +1 (on sidebar)
Email subscriber of Acting Balanced +1
(on sidebar)
This giveaway will start at Midnight on April 9th and end at 11:59 PM on April 11th!

Make sure you come back and enter!