I am pleased to have Shana Mahaffey, author of Sounds Like Crazy
here on Acting Balanced today as part of her Virtual Book Tour with Pump Up Your Book. I will be reviewing Shana's book tomorrow and you will have two separate days worth of opportunities to enter to win a copy of Sounds Like Crazy

FAQ's Sounds Like Crazy Style
I've compiled a list of the top three questions I get asked at every reading. Enjoy!
Q. Most first novels are thought to be autobiographical. How much of Sounds Like Crazy fits this trend?
A. Okay, I am going to take the scenic route to answering this question by taking you all the way back to the book sale. It goes like this: early one morning, while I am standing in front of the washer with a basket of laundry in my hand, my phone rings. Yes, I carried it with me everywhere since my book was out on submission. My agent said, "We have an editor at Penguin who is very interested in your novel, but she has one question…" Palpable pause with me thinking, "They want the book for free? They want me to pay them to publish the book…" and things of that nature. My agent then said, "Now we've never discussed this before…" Another pause and still me without a clue…, "But she is asking if you have Multiple Personality Disorder." Oh, is that all? I thought to myself. My agent waited, I took my time for dramatic effect, then finally I said, "Well, that depends, do I need it?" Still nervous, my agent replied, "No, they'd prefer you didn't have it."
Of course the editor didn't take my agent's word for it. She called the next morning and basically said, "Hello, this book is so interesting almost like you've lived it yourself, have you?" I didn't try to work the call as I'd done the day before. I simply stated, "No." Then I elaborated about my large Irish Catholic family—I am one of 18 grandchildren—and how that is akin to living with multiple personalities. The rest is history in the form of Sounds Like Crazy on shelf in the M section at a bookstore near you.
Q: Did you always know you wanted to be a writer?
A: The answer is "Yes" asterisk. The asterisk is to convey that while I must say yes, I can't honestly say that I ever had a choice. I mentioned above that I am one of 18 grandchildren. Well, I had the inestimable fortune of a larger than life grandfather, also known as Poppa in my family. The list of who he was is a long and filled with accomplishments—war hero, semi professional athlete (there was no pro in his day), hall of fame scholar, teacher, coach, and consummate example of a humble human being practicing kindness and living an honest. And while he was one of the original bloggers, sending out a typewritten (Underwood then IBM Selectric all the way to 2005) monthly bulletin to a subscriber list of over 200, the one accomplishment not in his showcase was published author, even though it was definitely at the top of his dream list. By the time grandchildren came along, he crafted a backup plan in the form of returning all written communications from us to him corrected with red pen (he was also an English teacher). I believe I am the only one who persevered and continued to write, which made me Plan B. I wrote my first poem in fourth grade and continued from there to a minor in creative writing in college along with poems, short stories published here and there and a few controversial op ed pieces in the UC Santa Barbara paper. He wasn't crazy about the Op Ed pieces, but he continued to encourage me. Like those who try to avoid their fate, I tried my hand at many different things while never losing my passion for story telling and never losing his gentle background goading. A few years back gentle was replaced with enthusiasm (it seems the coach in him started thinking clock ticking, maybe it's time for a Hail Mary pass…). Finally, at Christmas he asked the question outright, "How is the book coming along." I demurred, became keenly fascinated in the photos on the walls—ones I knew as well as the back of my own hand—made some noise about it being a mess, until he asked the next most dreaded question: "Well, are you following your outline?" English teacher, remember? I renewed my interest in the photos and said, "Uh, outline?" Exclamations, waving hands, ensued. Then he told me after Christmas I would bring over everything I had and we would sit and outline it.
The new year started, illness—mine then his—took a few weeks and then I was ready. Instead of getting a call from him, though, I got a call from my sister, "Poppa is going into hospice today and they are unsure if he'll survive the night." He survived three days while a parade of well-wishers went through his room their words accompanied by the sound of John McCormack (his favorite Irish singer) on the CD player. The last evening, my cousin and I sat on either side of him talking about the book and the outline. He hadn't been lucid for a couple of days, but I was certain he could hear us, so I said, "Poppa, I think it's a rip-off you are dying before my book gets outlined, so I'll make you a deal: you hold the champagne and help me from wherever it is you're going, and I will dedicate everything I write to you." He died 30 seconds later. My cousins affectionately accused me of talking him to death. It didn't matter. His passing galvanized me and 18 months later I had a completed novel ready for submission to an agent. I will not forget the first time I printed out the manuscript—I held the warm sheets of paper against my chest, closed my eyes and whispered, "Thank you, Poppa." I swear I heard the cork pop.
Q: What are you working on now?
A: I am working on a story about a woman who has to correct a mistake she doesn't know she made, and guiding her through the process is her best friend's dead brother. This book is in some ways very different from Sounds Like Crazy, but in other ways very similar. The latter because it tells a story about a woman struggling to face a very difficult truth, and in doing so, changes her life. Also, in the tradition of my favorite author, Robertson Davies, the book is the second in a trilogy linked by characters. In this book, Holly's father (Holly is the main character of Sounds Like Crazy) plays a key minor role; and, you will get a brief glimpse of Holly as a child.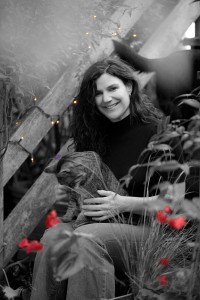 Shana Mahaffey lives in San Francisco in an Edwardian compound that she shares with an informal cooperative of family, friends and five cats. She's a survivor of Catechism and cat scratch fever, and is a member of the Sanchez Grotto Annex, a writers' community. Her work has been published in
SoMa Literary Review
and
Sunset
Magazine. She welcomes all visitors to her website www.shanamahaffey.com, and is happy to meet with book groups in-person or in cyberspace (phone/webcam/the works).
Her latest book is
Sounds Like Crazy
.
About Sounds Like Crazy
Though she doesn't remember the trauma that caused it, Holly Miller has Dissociative Identity Disorder. Herpersonality has fractured into five different identities, together known as The Committee. And as much as they make Holly's life hell, she can't live without them. Then one of those identities, the flirtatious, southern Betty Jane, lands Holly a voiceover job. Betty Jane wants nothing more than to be in the spotlight. The rest of The Committee wants Betty Jane to shut up. Holly's therapist wants to get to the bottom of her broken psyche. And Holly? She's just along for the ride.
Rules:
Giveaway is open to US and Canadian Residents only
Mandatory Entry must be completed before other entries count.
Each entry must be made as a SEPARATE COMMENT
Giveaway will end on January 20th, 2011 at 11:59 PM and the winner will be chosen by Random.org and announce on Acting Balanced and contacted by email
The winner will have 48 hours to claim their prize.
You will have a second round of chances to enter on tomorrow's review post.
The comments on this post will number 1 through X,
the comments on the review post will begin at X+1 for random.org
Mandatory Entry on this post
What question would you like to ask author Shana Mahaffey?
Bonus Entries *Leave a separate comment for each:
+ 2 Follow Shana Mahaffey on Twitter
+2 Register for Shana Mahaffey's mailing list on her website
+ 1 Bonus entry Follow Acting Balanced on Google Friend Connect
+ 1 Bonus entry Subscribe to Acting Balanced by email (must be completed)
I want to #WIN the book Sounds like Crazy from @chascouponmom and @smahaff http://bit.ly/h1QxBl ends 1/20/11