I'm hanging out at: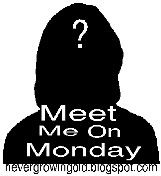 1. What is your favorite way to eat chicken?
Ooh... stuffed with feta cheese or something else yummy
2. Have you decorated for Christmas yet?
No - will probably start getting things out this week
3. What is your favorite article of clothing?
My wedding dress... but if you count things that I wear often, I have a really comfy raspberry colored cardigan that I really like.
4. Do you pay your bills online or write checks the old way?
Online for regular bills, but I will often write and mail a check for a one off bill.
5. Do you make Christmas cookies?
Yep, and I'm trying to put together a holiday cookie exchange for a couple of weeks from now.