I am pleased to have had the opportunity to review
The Christmas Chronicles: The Legend of Santa Claus
by Tim Slover as part of his virtual book tour with
Pump Up Your Book
:

About The Christmas Chronicles (from the Publisher)
In this new holiday classic, Tim Slover crafts a marvelous, magical novel about how Santa Claus became the man he is today. After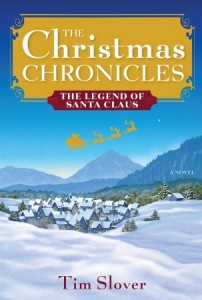 reading The Christmas Chronicles, you'll believe all over again in the magic of the season.
Snow is falling, and the clock ticks toward midnight on Christmas Eve while countless children, too excited to sleep, anticipate the arrival of Santa Claus. But in Tim Slover's deeply charming and utterly thrilling new novel, that's the end rather than the beginning of the story. In this richly imagined tale of Santa's origins, the man in full finally emerges. The Christmas Chronicles is at once an action-packed adventure, an inspiring story of commitment and faith, and a moving love story.
It all starts in 1343, when the child Klaus is orphaned and adopted by a craftsmen's guild. The boy will grow to become a master woodworker with an infectious laugh and an unparalleled gift for making toys. His talent and generosity uniquely equip him to bestow hundreds of gifts on children at Christmas—and to court the delightful Anna, who enters his life on a sleigh driven by the reindeer Dasher and becomes his beloved wife.
Still, all is not snowfall and presents. Klaus will be shadowed by the envious Rolf Eckhof, who will stop at nothing to subvert him. But in the end, Santa's magic is at last unleashed, flying reindeer come to his aid, and an epic battle between good and evil is waged in the frosty Christmas skies.
By turns enchanting, hair-raising, and inspirational, The Christmas Chronicles is a beguiling tale destined to become a holiday favorite for the ages.
My Review:
Every year there is a crop of authors and advertiser vying for the opportunity to re-invent the history of Santa Claus or redesign his image. This year, first time author Tim Slover gives us his take on how Santa Claus, or Klaus came into being. I have to say that the realism and detail provided of the thirteenth century time period and the back story on how Klaus becomes a master woodworker set the tone for the way that the story unfolds. It includes strong tensions with Rolf, who is determined to undermine all of the hard work and gifts that Klaus has.
I love that this story works on multiple levels - it would make a good read aloud story with school age or older children in December, but also offers a tale that adults can sink their teeth into. This book has a multitude of emotions - love, passion, jealousy, anger, caring, generosity and more!
-
I truly think that this book can become one of the classic tales associated with the Christmas season - along with Charles Dickens and Clement Moore. I highly recommend that, if you are looking for a new Christmas classic, that you check out
The Christmas Chronicles: The Legend of Santa Claus
by Tim Slover.
About Tim Slover
Tim Slover is a writer and professor of theater at the University of Utah. His plays have been produced off-Broadway and in theaters throughout the United States and in London, where he spends part of each year. His wife, usefully, is a marriage and family therapist, and their two sons were the original audience for The Christmas Chronicles. For the purposes of yuletide decorating, each Christmas, Slover continues to cut a few pine boughs at an undisclosed location.