From the Publisher: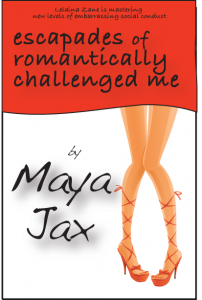 The Scene: Aspiring screenwriter Lelaina Zane finally lands a Hollywood break, but it's cut short when her dad has a heart attack and she has to return to her hometown. Now that she's back, her parents want her to stay, show some responsibility and join the family law firm.
Her Ex: Her first love, first kiss, first… you know, and first guy she caught with another woman. Full of apologies and a proposition, he wants her to stay and be with him.
Her Dilemma: With one embarrassing disaster after another, a devastating blow from Hollywood and four weeks until the Bar Exam, Lainey has to decide if she'll stay and have it all — career, love, money — or return to LA to pursue her impossible dream.
My Opinion:
This book was great - it had romance, it had tension and it had drama... all wrapped up in one hilarious main character who just can't get it together... pulled in all directions, Lelaina muddles her way into situation after self-deprecating situation until it makes your head spin.... from foibles to flubs, you see a genuinely likable character with a few flaws... the inability to say no, fears that keep her from reaching for what she wants and needs and the need to continue to repeat mistakes from the past... sound familiar? What happens to Lelaina can happen to anyone!
Through the laughter, this book is all about being true to yourself and learning to stand on your own two feet... although a few lucky and unlucky breaks along the way help move the story along...
This is another great book to add to your beach reading collection - and if, like me, your summer is coming to an end...
Escapades of Romantically Challenged Me
would make for a great curl up and read under the covers on a crisp, fall afteroon kind of book too!
About the Author:
(taken from
Pump Up your Book
) : Loving spy and mystery novels, Maya Jax entertained the idea of being a secret agent and started working at an embassy overseas while doing her master's in international relations. During this time, she finished her first screenplay, an action/thriller about spies and nuclear weapons. She pitched it to a friend in Hollywood, who told her she had talent, but to never – ever – show anyone the script again. Realizing her love for writing was stronger than her desire to spy and fight crime, she attempted a second screenplay focusing on what she knew best — trying to make it as a writer. The screenplay turned into a manuscript and the result was chick lit novel
Escapades of Romantically Challenged Me
. You can read more about Maya at
www.mayajax.com
.