I thought I'd try out something new while on vacay and so here is my very first Five Question Friday: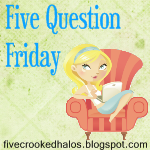 1. What were your school colors?
2.
What's the best compliment you ever received?
3.
Do you buy cheap or expensive toilet paper?
yep... not really brand loyal so I buy whatever I can get on a deal...
4.
Have you ever had a surprise party thrown for you? Or have you had one for someone else?
5. What is one
material
possession

that you "can't live without"?