Welcome To Acting Balanced, one of the fabulous stops on the Global Giveaway Hop, hosted by Simply Stacie
This event features all worldwide giveaway and runs from July 16th to 22nd.
The giveaway I am hosting is for two $50 EdenFantasys Gift Cards -
*****Please note this giveaway is only open to Adults 18+ and this post contains links to an ADULT PRODUCTS WEBSITE.****
About the Sponsor:
EdenFantasys.com is a one stop shop for lingerie, sex toys and other adult products. I love this online retailer because they are discrete, reliable and provide reviews and feedback on almost every product they have available!
One of my absolute favorite things to buy from EdenFantasys.com are my bath products! If you've read my blog for a while, you know that I swear by Shunga Oriental Bath Crystals for my relaxing soaks in the tub!
When I first ordered them, it was because of this description...
"
Bath crystals from Shunga make your bath more relaxing and have soothing effect on the skin. Made with Dead Sea salt these crystals have many positive properties making your skin soft, smooth and healthy. Included candle adds romantic touch to your bath routine."
And the fact that it was rated at 4.5/5 stars by over 100 reviewers!
Along with that, out of thirteen written reviews, eleven of them rated the product at a 4 or 5 and only one had a truly negative reaction - and that was because of an allergy to the product...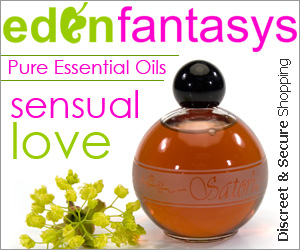 Shopping online for adult products can be tough because you can't reach out and touch the products, but with the EdenFantasys.com site, I know that I can make the most informed online decision because of how much information I can get about each and every product on their site!
EdenFantasys.com ships worldwide and has excellent shipping and customer service! They also have fabulous sales and deals that change all the time so I highly recommend signing up for their newsletter and following them on twitter!
All you have to do to win one of the two $50 EdenFantasys GC is fill out the rafflecopter form below:
a Rafflecopter giveaway
Now go and check out these other great giveaways: