Welcome to Acting Balanced!
***This post contains links to ADULT products ***
This giveaway is for a $50 EdenFantasys.com GC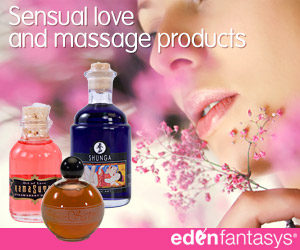 EdenFantasys is a premiere online adult store that offers something for everyone! Whether you are in a relationship or not, pampering yourself should be an important part of your day and EdenFantasys knows how to pamper you!
One of the things that I love most is that I can find fabulous items like bubble baths, massage oils and candles along with the more exotic sensual offerings! I've tried several of their spa products now and each one has offered a great way to relax and escape!
Another great feature of EdenFantasys is that they have wonderful reviews and ratings for all of their products so that you can benefit from others experiences with them. I know that buying scented products online can sometimes be difficult because scent evokes so many emotional responses, but each of the products I've tried from them have more than met my expectations and part of the reason is that I've read the reviews and know whether others have found the scent overwhelming or just right!
I also love EdenFantasys because they are discreet and efficient - my order always arrives when they say it will and is packaged to come from a Web Company so that my nosy UPS driver doesn't know where my spa products are coming from... If you haven't experienced EdenFantasys yet, then make sure you get all of the entries done for the giveaway and win your way to $50!
About the Fall Festival Giveaway Sponsor:
RetailMeNot
has every online coupon and promo code you could ever hope to find—all in one place. With the help of a dedicated community, RetailMeNot thrives as a money-saving mecca free of full-priced foes. With more than 1,000,000 coupons from over 100,000 stores, RetailMeNot is your go-to site when you want to grab the goods to create a one-of-a-kind
Halloween
costume, lock down the biggest savings on
Black Friday
and
Cyber Monday
or surf the Web for financial finds.
And check out all of these other fabulous blogs offering great prizes: